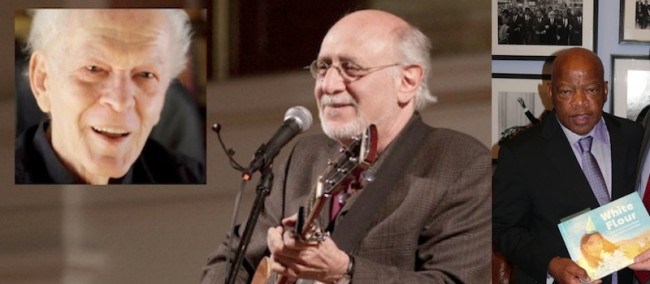 I got a note in my e-mailbox this morning from Peter Yarrow of Peter, Paul and Mary, that included these words:
White Flour is a story that needs to be told, especially in the world of today. Children need to learn how to meet the hate surrounding us without returning it – and this book shows them a special way to do that. It is a poignant and beautiful book with a story that will inspire young and old. My hat is off to David and Jenn for their important, moving, work.
That was pretty wonderful to read, especially from someone with so many years in the struggle for a better world (not to mention the writer of Puff the Magic Dragon!).  Thank you, Peter, both for the kindness and for the light you shine.
That followed on receiving a letter in the mail a couple of days ago from Gene Sharp, one of the world's most prominent theorists on non-violence, a Nobel Peace Prize nominee and founder/director of the Albert Einstein Institution, who wrote:
White Flour is well-written and creative, and communicates an important message to young children.
Gene Sharp is responsible for teaching the principles and practice of non-violence to people all over the world, and is widely credited with educating the activists who brought about the Arab Spring.
It's affirming to have so much positive feedback on the book. I made the book because I agree with Peter that this is a story that needs to be told, and it's wonderful to find that some of my heroes 'get it', and feel the same way.
These cool notes come on the heels of a beautiful letter from Patch Adams, the famed clown activist whom Robin Williams portrayed in the movie by the same name. He wrote:
White Flour is a brilliant children's picture book to help open up a discussion of working for peace and justice and making it fun and meaningful. It confirms that clowning is a trick to get love close.
This is a good adventure. Thanks for spreading the word, and for celebrating with me.
David
Update : A little while after posting this, I got the picture above of Congressman and Civil Rights hero John Lewis holding White Flour. Activist and long-time friend of mine Will Stone gave it to him, and he was excited to hear this story of "nonviolence in action," as he put it.  I met John Lewis a few years ago, before I had put the book out, and I will always remember him saying "Dr. King used to say to me, sometime you have to turn the world upside down in order to set it right."  The point of that, I think, is that peacemaking is not about achieving placidity. Rep. Lewis also said "Conflict is not always a bad thing. Sometimes conflict is necessary on the way to justice." The question for us, as peacemakers, is how we approach conflict—in ways that are destructive or ways that are constructive?
Needless to say, it is wonderful to feel respected by people I respect so deeply.