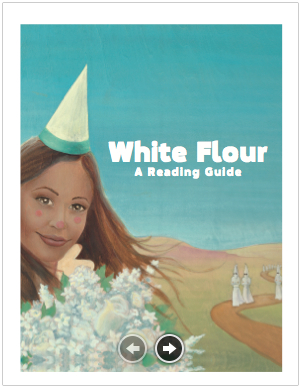 Free Lesson Plans and Audio/Video Resources
Jenn Hales and I are thrilled to announce that we've released three resources that have been created to accompany White Flour in different teaching contexts. All are free downloads. The first is a Reading Guide that is designed to the Common Core Teaching Standards for English Language Arts by giving you information and questions to use in a close re-reading of the story with students.
The second is a Sunday School lesson plan designed for church contexts. It was written by Marc VanBulck, and it examines Jesus' teaching regarding how to respond to violence and aggression, drawing heavily on the work of Walter Wink.
Finally, there is a Social Studies Curriculum designed by Sarah Mahoney for fifth graders, but applicable to other ages as well. This is for several class periods and can be adjusted for your particular class needs. Common Core standards were used in this design as well.
Please feel free to distribute these free resources as widely as you like. If there are other resources you would like to see, or elements to these resources that could be improved, please post comments on this page. We enthusiastically welcome your feedback!
Click here to download the White Flour Reading Guide.
Click here to download the White Flour Sunday School lesson plan.

Click here to download the White Flour Social Studies curriculum.
If you do not have Adobe PDF Reader, please click here to download it.
Free Audio and Video
If you want to present the story in different ways for different learning styles, please check out the video version of the book here, or audio of David reading the book here (click on 'here' to buy the MP3 for 99¢, or on the 'play' icon to listen for free).
Would your students like to chat with the author?
David LaMotte is also available for classroom visits! Or, as a less expensive alternative, Skype visits to your classroom can be arranged (worldwide!). By video link, David can provide:
• background on the event that inspired the book, as well as a real-life clown protest in 2012 that was inspired BY the book!
• information about nonviolent strategies for conflict transformation (David is a Rotary World Peace Fellow and holds a masters in International Studies, Peace and Conflict Resolution). More on David here.
• tips and techniques for creative writing (David is the author of two books and ten CDs of primarily original songs).
• Question and Answer sessions on any topics the students and teachers may choose.
To inquire about setting up a real or virtual classroom visit, please write to:
Tamara Feightner
Dryad Publishing, Inc.
booking(at)davidlamotte.com
(828)808-5230
Bulk Book Orders
By popular demand, we have created bulk orders with significant price discounts for schools or others. If you need to set up an invoice and a paper order, please contact Emma above. If you can use a school credit card, just use the options below.
Also for possible use in the classroom, there is a free video version of the book available here, for students who would benefit from an alternative presentation of the story.
Thank you for doing the important work of stretching young minds and hearts.