The Southern Poverty Law Center is the nation's leading organization tracking hate groups in the United States. One of their well-known periodicals is Intelligence Report, which chronicles the activities of these groups and trends and developments in the struggle against their messages. Another is Teaching Tolerance, widely-read magazine for educators who address issues of racism, bigotry and discrimination. Both of them have references to White Flour in their current issues.
Intelligence Report had this to say about the Charlotte clown response, based on White Flour, to a Neo-Nazi rally there in November:
Nov. 10, 2012 • Charlotte, NC

More than 40 Klansmen and members of the National Socialist Movement (NSM), America's largest neo-Nazi group, rallied against non-white immigrants, all of whom the NSM says should be deported immediately, "peacefully or by force." But the extremists were met by a crowd of counter-protesters who outnumbered them five to one—and who wore red rubber noses and a variety of clown outfits. As the rally proceeded, the counter-protesters confronted the white-power racists, chanting "White Flour" and "Wife Power" and generally ridiculing them. "The message from us is, you look silly," said Lacey Williams, youth coordinator for the Latin American Coalition that organized the counter-protest. "We're dressed like clowns, and you're the ones that look funny." The concept for the counter-protest, it turns out, actually began with a poem that was later turned into an illustrated children's book, White Flour, written by singer-songwriter David LaMotte, a longtime peace activist.That book, published last May 26, was a reaction to another racist rally held exactly five years before in Knoxville, Tenn. "I did hope it would inspire some people," LaMotte said, but I did not at all foresee such a direct line from the book to a protest." LaMotte said the book, illustrated by Jenn Hales and published by his Lower Dryad Music company, is meant to introduce children to the principles of nonviolence.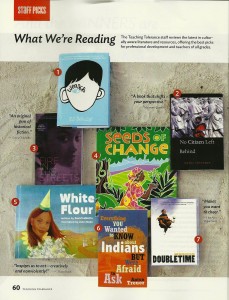 Teaching Tolerance listed White Flour in their "Staff Picks: What We're Reading" section, along with a quotation from staffer Thom Ronk, "Inspires us to act—creatively and nonviolently!"
They also wrote on the facing page:
Want to learn how one group of activists—The Coup Clutz Clowns—challenged a white supremacist hate group through nonviolence and humor? Read White Flour, written by David LaMotte, illustrated by Jenn Hales and inspired by the May 26, 2007 event in Knoxville, Tenn.
A virtual tip of the hat to SPLC for the important and excellent work they do. It's an honor that they 'get' this book, and I'm thrilled to show up on the pages of their publications. Nine months after its publication, the word keeps spreading!