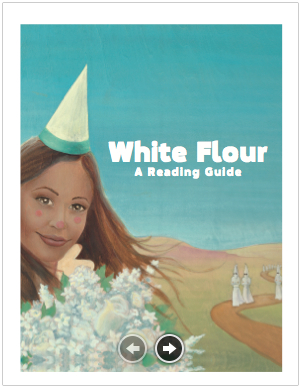 Jenn Hales and I are thrilled to announce that we've released the first two of three resources that have been created to accompany White Flour in different teaching contexts.  The first is a Reading Guide that supports the Common Core State Standards for English Language Arts by giving teachers information and questions to use in a close re-reading of the story with students.
The second is a Sunday School lesson plan designed for church contexts. It was written by Marc VanBulck, and it examines Jesus' teaching regarding how to respond to violence and aggression, drawing heavily on the work of Walter Wink.
We will soon release a third resource, a Social Studies curriculum. Stay tuned!
Please feel free to distribute these free resources as widely as you like. If there are other resources you would like to see, or elements to these resources that could be improved, please post comments on this page. We enthusiastically welcome your feedback!
Click here to download the White Flour Reading Guide.
Click here to download the White Flour Sunday School lesson plan.
If you do not have Adobe PDF Reader, please click here to download it.
Stay tuned for more…